CONTACT & LOCATION
Connect with Us
—
Situated in the heart of Parque de la 93, the best area to stay in when visiting Bogotá Colombia, 93 Luxury Suites is a short walk from Parque de la 93, an exclusive area of bars, restaurants and nightclubs in the city, where you will also find cinemas and designer shops. Similarly, you will be 15 minutes from the most exclusive shopping centers in Bogotá (Centro Comercial Andino, El Retiro and Atlantis Plaza).
93 Luxury Suites
—
For more information about our Bogotá hotel or to book hotel reservations or one of our hotel deals, please contact us today.
Contact Us
Carrera 13A 93-51
110010 Bogotá, Colombia
93 Luxury Suites - Bogotá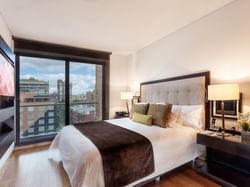 93 Park
—
Luxury, details, technology and healthier cuisine make 93 Luxury Suites a unique luxury option in Bogotá. 93 is located in the park of 93.