LOCAL ATTRACTIONS
Experience the Top Bogota Attractions
—
Check out the local neighborhood experiences from 93 Luxury Suites & Residences in Bogotá. Discover things to do, attractions, restaurants, routes, bars, shopping, and more. When planning your Bogotá sightseeing trip, be sure to ask our concierge and front desk staff about popular nearby attractions and things to do.
93 Luxury Suites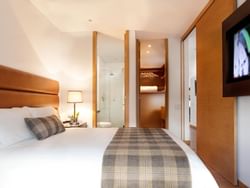 93 Park
Luxury, details, technology and healthier cuisine make 93 Luxury Suites a unique luxury option in Bogotá. 93 is located in the park of 93.
Zona T
—
"Zona T" is a distinguished area home to the most renowned worldwide boutiques as well as Colombia's top brands. Here you will also find three of the best shopping centers and excellent restaurants.
Chico Museum
—
Visit this intimate museum to browse ceramics, glassware, textiles and religious paintings displayed in a colonial hacienda with a chapel.
Virrey Park
—
Located across the street from the hotel, Virrey Park offers a relaxing, a natural and peaceful environment a few steps from Zona T and Parque de la 93.
93 Park
—
This neighborhood is a great place for a stroll, and offers great restaurants and nightlife. In addition to occasional artwork and seasonal festivals, it's also one of the best spots any day for a city picnic with views up towards the mountains.